NORRIS, Allan
1927 - 2019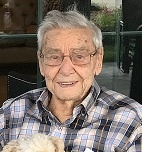 Passed away peacefully at the Grace Village on March 4, 2019 at the age of 92.
He will be forever loved, joyously remembered and sadly missed by his daughter's Cheryl (Randy), Kimberley (Michael) and his son Steven (Myoung Sun Han) and was the beloved grandfather of Tanya (Damian) and Ryan (Andrea).
He also leaves to mourn his sister Joyce Berwick and extended family, friends and colleagues.
Visitation will take place at the Cass Funeral Home 3006 College Street Sherbrooke (Lennoxville) Quebec on Saturday May 18, 2019 from 1 pm. to 3 pm. followed the funeral service at 3 pm.
Interment will take place at Malvern Cemetery.
Write your sympathies or tribute