PAPINEAU-COUTURE, Elizabeth
1960 - 2022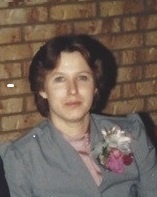 Passed away on September 23, 2022 in Sherbrooke, Quebec in her 62nd year after a courageous fight with cancer. She was born May 1, 1960 in Sherbrooke.
The funeral will be held on Saturday, October 1 at 10 a.m. at the St. Patrick Church, 20, Gordon Street, Sherbrooke, followed by the burial at Saint-Michel Cemetery. The family will receive condolences at the church 1 hour prior to the service.
She was predeceased by her infant son Richard (who was born and died on June 17, 1984), her parents Louis Gui (July 31, 1922 to July 24, 1992) and Kathleen Unsworth ( January 10, 1927 to November 25, 2004), her nephew Todd Brady King (December 24, 1985-June 16, 1986), and her older brother Louis Mark Papineau-Couture (November 13, 1948 to February 2, 1989).
Master Corporal Louis Mark Papineau-Couture deceased February 2, 1989 following the January 29, 1989 crash landing of the Lockheed Hercules CC-130E of the Royal Canadian Base coming from Edmonton, Alberta when approaching Fairbanks-Fort Wainwright Airport, Alaska in -46 degrees. Elizabeth was the youngest of the family.
Elizabeth leaves her sister, Suzanne Papineau-Couture from Montreal, Quebec, the family of the late Louis Mark Papineau-Couture, Ria, her sister-in-law, their children Brian, Michael and Linda and their grandchildren: Grace and Beatrix, Elijah, Lukas and Bennett all from Edmonton, AB; her brother Bernard and his wife Paulette, their children: Paul and Kevin (Gina) and their granddaughter Kathleen Papineau-Couture all from Fredericton NB; her sister Rose Mary and husband Thomas King , their children Stephen, Patrick and granddaughter Chanel all from Barrie, Ontario.
All of our grandparents, aunts, uncles and many cousins have passed away over the years. Elizabeth will be missed by her family and friends.
We have loved you forever and ever and you will remain in all of our hearts. R.I.P.
Memorial donations in Elizabeth's memory may be mad to the Canadian Cancer Society (Qubec Division) or to a charity of your choice.     
Write your sympathies or tribute