We know that losing a child is probably the most overwhelming thing that can happen in the life of a family.
The approximately 170,000 members of the funeral cooperatives of Québec are people of compassion. Acting in solidarity and mutual support, the members have the capacity to join forces to assist persons who have lost a child.
In that spirit, the directors of most funeral cooperatives have set up the Solidarity program. This program enables us to offer funeral services at no charge for members who lose a child. Upon the death of a child, the cooperative will require no payment from the family for its own funeral expenses, up to a maximum of $2500.
We know how important it is to feel supported in such a time of trial. That is why we want to stand by your side.
How do you participate? Simply by becoming a member of the cooperative. In doing so, you are joining the 170,000 members of the largest network of funeral homes in Québec.
You will be adding your voice to those acting in solidarity with the families who have lost a child.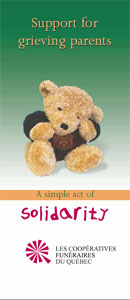 Click on the picture to download the document